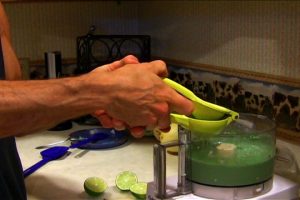 Key Lime Shakeology Pie
Ingredients:
1 container tofu, silken or firm (approx 12 oz)
1 scoops Greenberry Shakeology
2 squeezed limes (I just got a tip to us lime zest. Thanks Keith Harris!)
1 tbsp of sugar free lime jello
1 tbsp of orange juice
2 Philadelphia Cream Cheese Philly Minis (1/3 less fat kind)
1 pre-made pie crust…Whole Foods has Whole Grain, Graham Cracker like pie crusts that are fantastic for this!
(I used Arrowhead Mills)
Preparation:
Blend together the tofu, Greenberry Shakeology, jello, lime juice, cream cheese and OJ until smooth and creamy. Pour into pie crust and refrigerate until firm, at least one hour.