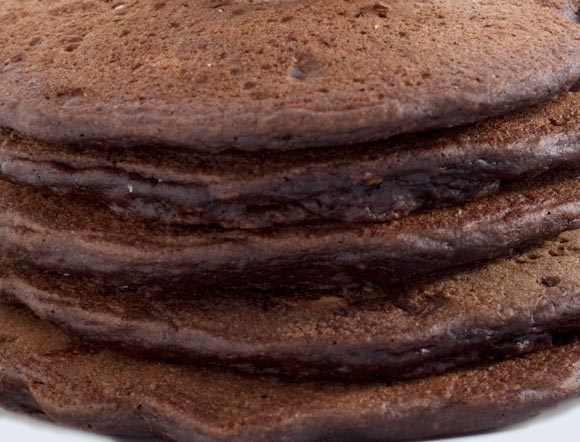 I LOVE PANCAKES! And over the years I have tried to come up with ones that are healthy and taste amazing. Since I love chocolate and also cherries, I decided to experiment using Chocolate Shakeology and diced dark cherries. These may be the healthiest pancakes you'll ever make. Maybe the tastiest too, but there are some pretty amazing pancake recipes out there, so I'm not going to even take on that challenge! All I know is that I love these Gluten Free Chocolate Cherry Protein Pancakes and hope you enjoy them as much as I do. One word of caution. They are very filling. Shakeology is a meal replacement powder so it's like you are getting 2 meals with this recipe.
Enjoy!
Gluten Free Chocolate Cherry Protein Pancakes
Ingredients:
2 egg whites (I use Better n Eggs)
1 scoop Chocolate Shakeology
1 to 1 1/4 cup warm water (you may need to experiment with this. I seem to adjust it every time.)
2 T coconut oil or olive oil
1/2 tsp vanilla extract
1 T Raw Agave
1/2 tsp baking soda
1/2 tsp baking powder
1-1/3 cups Gluten Free Bob's Red Mill All Purpose Flour
3/4 cup thawed frozen dark cherries diced
Directions:
Mix the dry ingredients together in one bowl and (baking powder, baking soda, Shakeology, GF Flour)
In another bowl combine agave, vanilla, oil and warm water.
Mix dry ingredients with wet ingredients; then gently add in the egg whites.
Gently fold in diced cherries
Mix all the ingredients together in a bowl, runny enough to pour. Add a little more water if needed.
Pour the batter in small medallions on a hot griddle or nonstick skillet.
Flip once the edges start to bubble. Lightly brown on each side (although these will already be pretty brown…love chocolate!).
When it's done put it on a plate and add your favorite toppings, or no toppings!
Top with:
B grade maple syrup
coconut oil