You eat right and Exercise right? I think we all know that eating right is a major factor in overall health and well being. Over the years I have been learning a lot about foods that fuel and foods that work against me. Amaranth and Quinoa are certainly supergrain foods with funny names, but seem to have SuperPowers!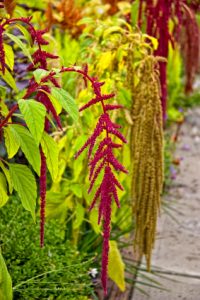 Amaranth
It is one of the 70 healthy ingredients in Shakeology. So, what makes it so healthy?
Amaranth a great source of vitamins and amino acids, but it's also high in protein, fiber and helps to boost your immune system. It's one of those "supergrains" that is extremely high in protein. According to Wikipedia, amaranth seeds are similar to quinoa (see below) in that they contain lysine, the amino acid lacking in most other grains that is responsible for adding protein.
Another thing to note is that it contains three times more fiber (and five times more iron) than wheat! It also has more protein than milk. Other benefits include high levels of vitamins A and C, calcium, potassium, and phosphorous.
This is a very versatile grain that can be used in a variety of different dishes. It is regularly made into flour and used to create breads, pastas or other baked goods (found primarily in health food stores like Whole Foods, Co-ops, etc). Amaranth does not contain gluten! This makes it a nice option for people with celiac disease or gluten allergies.
Now, if you are looking to get this supergrain by itself, you'll have to visit a health food store. Mostly you'll find it in the form of hot and cold cereals, ready-made bread and mixes for baked goods like cakes and muffins. It has a nutty, "earthy" flavor that complements cold and hot foods nicely.
Another way to benefit from Amaranth, of course, is through Shakeology. This supergrain teams up with many other superfoods to give you an abundance of benefits! It's one of those grains that has been cultivated for over 8,000 years and was a staple food of the Aztecs. If they only had blenders back then!
* If you don't have Shakeology, you can get it at the link below.
After reading several articles in health magazines over the years and seeing it highlighted in many eating plans, I just had to try this stuff called, quinoa. I've been integrating this stuff into my eating for the past few years.
Originally, I had no idea how to pronounce it. All I knew was that it's versatile and a powerful food! It's pronounced "Keen-Wah", by the way, but we give it all sorts of funny names like "Keeno," "QuinO" and "Q" in this household.
This used to be a staple of the Incas way back when, so it's been a crop that has a history!
It falls into the category of "superfood!" Quinoa is full of phytonutrients, antioxidants AND can even help balance your blood sugar. It's a delicious whole "grain" that is easy to digest, full of high quality protein and fiber, and can form the basis for delicious meals.
Other things I have learned is that quinoa is a gluten free grain-like seed that provides more amino acids, enzymes, vitamins, minerals, fiber, antioxidants, and phytonutrients than most other grains!
It looks like a seed, but when it's cooked, quinoa is light, fluffy, slightly crunchy and subtly flavored. It actually cooks and tastes like a grain, making it an excellent replacement for things like rice.
So, while this grain tastes good and is versatile, quinoa is a complete protein and contains all 9 essential amino acids that are required by the body as building blocks for muscles. It's also a wonderful way to ensure that you consume valuable fiber. I have learned the this stuff is a also a good source of minerals that act as antioxidants in your body to get rid of dangerous cancer and disease-causing substances.
I've seen some lists online where quinoa is effective in preventing or treating many health conditions. You may want to Google various studies that show quinoa's health benefits!
Quinoa is easy to cook, is versatile and light. I have seen suggestions to use it in soups or or salads. We often use it as a side dish or bedding for chicken.
One or our favorite meals is Chicken with Veggies and Quinoa, found here on AllRecipes.com.
I have also had quinoa for breakfast as I have bought quinoa flakes to have instead of oatmeal. I've also seen it used in cakes, cookies and more!
I guess quinoa is truly a supergrain or superfood. We can certainly learn a lot and benefit from the Incas.
So, for me, I tend to use Quinoa a lot more often. When it come to Amaranth, I use Shakeology to get those health perks! I love the benefits of both SuperGrains!
If you want a who boatload of SuperGrains, SuperFruits and SuperFoods, then Shakeology is your product of choice hands down!